Watching the fall in polyester chain for about a year now, one segment which has apparently escaped the trend is the ethylene chain including its derivative mono ethylene glycol segment. Crude oil prices had peaked in June 2014 and started their downward journey thereafter. Many factors were responsible for their fall, with supply glut being an important one.
In June 2015, oil benchmarks moved in opposite directions from their levels in May, but were more than 40% down on the year. Brent fell 44% year on year as worries over the Greek fiscal crisis, weaker petroleum products prices and profit taking undercut the market. US crude found support in unrest in Middle East with a suicide bombing in Kuwait raising fears about the security of oil supplies while other acts of violence with varying implication on the market included a terror attack in France; shooting to death of people in Tunisia, including Western tourists, and the killing civilians in northern Syria by Islamic State militants. US Futures averaged US$59.92 a barrel, up 1% on the month and 43% down from a year ago.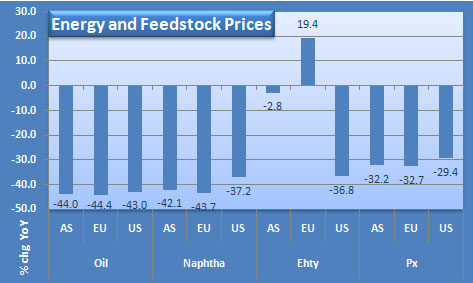 Naphtha markets in Asia continued to be weighed down by ample supplies from US and the Persian Gulf dwarfing the robust demand from petrochemical end-users. Spot prices declined 2.2% on the month and 42% from June 2014 to average US$562 a ton CFR Japan. European naphtha complex ended the month on a mixed note as the paper market rebounded while fundamentals remained bearish due to oversupply and a difficult arbitrage to Asia. Barges FOB Rotterdam closed the month at US$59.34 a barrel, down 44% year on year while USG values tumbled 37% in similar comparison to average US$66.71 a barrel FOB barges.
Ethylene markets reacted slowly to the oil price crash initially and the fall began only from October running through January 2015 reaching a low of just over US$900 a ton but reversed dramatically thereafter in February and continued until now. Prices were seen increasing opening June on tight supply while negative derivative margins limited gains. Spot remained flat to down in the second half of June amid sluggish trading as supplies were expected to rise. Prices averaged US$1,416-1,418 a ton CFR SE Asia, up 2% from May and marginally down 2.8% from June last year. In Europe, supplies from Middle East improved and relieved pressure on European buyers. However, spot increased 3% to average Euro1,211-1,215 a ton FD NWE and 19% year on year. In US, ethylene spot weakened throughout the year and in June as supply improved. Prices were at their lowest levels in two months in June. Spot prices inched down 1% to US cents 35.38-35.88 per pound FD USG, but significantly down by 37% in a year on year comparison.
Paraxylene prices fell in Asian markets as downstream PTA futures dipped in China ahead of discussion for July Asian contract price nomination. Spot market activity was erratic with spikes touching US$950 a ton and lows of US$920 a ton which surprised markets given that there was squeeze on PTA margins. This sideways move was apparently prompted by producers looking to prop the price up as most consumers were reluctant to buy at US$950 a ton. There was perceived snugness to the market due to delayed restart of several idled capacities which could soon change. Marker, the CFR China averaged US$934-935 a ton, down 1% from May and 32% on the year. In Europe June paraxylene contract settled promptly at a roll at Euro880 a ton, in line with Asian parity numbers. However, the uncertainty around the impact of Greek economic crisis may see prices rise on a weakening Euro. In June, lack of orthoxylene prevented exports while the spread between mixed and paraxylene remained narrow. Spot gained 1.1% on the month to average US$847.75 a ton FOB Rotterdam, while year on year comparison was down 33%. US spot paraxylene assessments rose in June amid tighter supply and poor economics. Demand remained quiet while Asia-US arbitrage stayed healthy. The May contract had settled at US cents 49 per pound (US$1,080 a ton) while spot was assessed at US$960 a ton FOB USG, jumping 10% on the month. But compared to last, the spot was down 29%.
To be concluded....
Courtesy: Weekly PriceWatch Report