The nylon chain was no exception to the falling crude oil prices. The fall in oil prices which began after they peaked in June 2014 continued for another year and is slated to march south for a few more months from now. Asian benzene prices started falling from August while its derivative caprolactum followed suit e in September. Both continued to fall until January with benzene touching a trough in January and caprolactum in February.
Caprolactum has been following benzene values with a lag of a month. Benzene prices started marching up in February until April and thereafter remained sluggish until June 2015. Caprolactum mirrored benzene market, again with a lag of one month. Benzene markets were reacting more to downstream styrene monomer and toluene markets rather than caprolactum, and its makers had only to follow through.
In June, the most dramatic decrease was seen in the contract price for benzene in US, which plunged 21% to US$2.25 per gallon while the equivalent contracts in Europe also declined 14% to Euro707 a ton. Asia contract was down 15% at Us$740 a ton. Spot prices in June first moderated early in the month than jumped in the second week only to fall back in the third week and bounce in the last week across regions. Asian markets tracked firmer downstream styrene monomer and discussion turned active. Asian marker, the FOB Korea gained 5% in June, but was down 40% on the year. Prices had touched a 12 month low in January to just above US$600 a ton. Since then, it has recovered about US$200 a ton until June.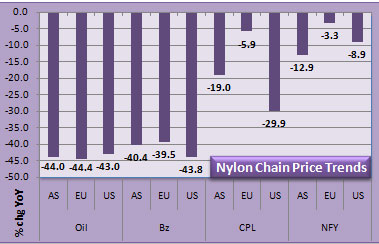 Caprolactam prices eased in Asia in June, driven by a combination of falling benzene prices and lusterless demand ending June, particularly from the textile filament sector. In China, contract price remained unsettled and in Taiwan one major buyer concluded its June contracts in the range US$1,800-1,810 a ton CFR, for imported material and US$1,810 a ton with the domestic supplier. In China Sinopec settled its May contracts up 2% for liquid material and June contract was settled at US$2,265 a ton. DSM Nanjing Chemical's settled its June contract at US$2,305 a ton for solid. Spot prices in June were down 0.3% from last month and 195 from last year. As downstream demand was disappointing, a number of caprolactum units scheduled to shut for maintenance over the next two months which may balance out the weak demand.
In Europe, the May caprolactum contract was finally settled at an increase of Euro145 a ton, in tandem with the underlying benzene price change. With June benzene price falling, the challenge was how to divide this prize. Sellers opened negotiations suggesting that prices be rolled over and they should pocket all the benefit. Equally, buyers countered with the proposal that they should get the entire bonanza. Spot numbers in Europe were down 6% year on year while the same was down 30% in US.
Nylon filament yarn demand had began to slow in late May, evidently pointing that the busy season was over, earlier than expected within the industry and certainly earlier than normal business cycles. Prices declined in June as raw material cost eased with lower caprolactum and nylon chips prices, and demand lacking. Downstream converters faced liquidity issues and limited fresh order intakes. Nylon FDY markets were stable to weak, as downstream sectors had stepped into the seasonal lull. POY markets were depressed by scant demand while DTY markets weakened, given prudent downstream demand. In Asian, 70D weaving yarn prices were down 1.7% on the month and 13% on the year.
In US, nylon textile filament was struggling with slow demand and substitution by polyester in some applications. Both POY/DTY and the FDY markets were feeling the pressure from polyester. 70-200D weaving yarn prices eased 2.6% in June and 8.9% over the year. European nylon filament markets were quiet and sanctions on Russia had adverse impact on European textile companies, particularly the Italian pantyhose business which lost a fundamental part of its plant loading. 78F68 textured nylon 6 filament prices eased 19.5% on year on year comparison in June 2015.
Courtesy: Weekly PriceWatch Report