The International Textile Machinery Shipment Statistics released by the International Textile Manufacturers Federation (ITMF), shows that shipments of textile machinery across segments declined in 2014, although marginally. Offtake of new short-staple spindles fell 15 per cent in 2014 from their levels in 2013 while that of long-staple spindles and open-end rotors increased 70 per cent and 2.6 per cent respectively. The number of draw-texturing spindles shipment increased 12 per cent during the year. However, shipment of shuttle-less looms and new large circular knitting machines dropped 14 per cent and 22 per cent year-on-year while shipments of flat-knitting machines expanded 31 per cent.
The statistics is compiled in cooperation with some 117 textile machinery manufacturers, representing a major portion of global textile machinery production.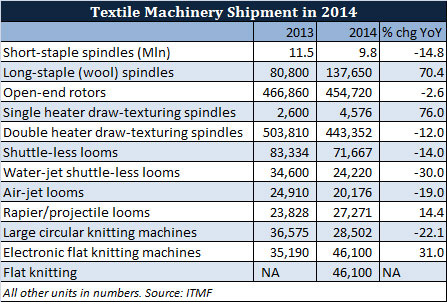 Most of the new short staple spindles about 91 per cent were shipped to Asia, which were down 17 per cent year-on-year. China, the world's largest investor of short-staple spindles, witnessed decline of nearly 29 per cent. Four of the five largest investors for short-staple spindles are from Asia, including China, India, Viet Nam and Indonesia. Turkey, the fourth largest investor, saw shipment increase 5 per cent in 2014, the third consecutive increase.
About 69 per cent of long-staple spindles were shipped to Europe, including 67,000 units to Turkey accounting for 49 per cent of global shipments. Within Europe Belarus and Italy were second and third with numbers at 21,216 and 10,584 spindles, respectively. Shipments to Asia increased 0.2 per cent to 29,000 spindles. North and South America did see any shipments of long-staple spindles while shipments to Africa numbered 432.
Open-end rotors offtake improved marginally in 2014 by 2.6 per cent after they declined in the previous two years. Close to 67 per cent of worldwide shipments of open-end rotors were to Asia though it declined. Shipments to Asia fell by 13 per cent continuing with the declines of 13.9 per cent in 2013 and 11.9 per cent in 2012. Shipment to South America weakened by 9.3 per cent contrasting the strong growth in Europe and North America where demand increased 27 per cent and 402 per cent respectively.
Machines mainly used for making polyamide or nylon filaments, the single heater draw-texturing spindles saw 76 per cent increase in shipment in 2014. With nearly 57 per cent into Asia, the region was largest investor in single heater draw-texturing spindles, followed by West Europe (20 per cent) and South America (15 per cent).
Double heater draw-texturing spindles, mainly used for making polyester filaments – saw the downward trend continuing as shipments fell by 12 per cent. Asia's share amounted to 88 per cent including 60 per cent into China.
Shipments of shuttle-less looms fell 14 per cent, the third decline in a row. Water-jet shuttle-less looms also dropped 30 per cent while air-jet looms declined, after four years of increases. The main destination for shuttle-less looms was Asia where 97 per cent of the machines were delivered. The region also saw 36 per cent intake of water-jet looms, 35 per cent of are rapier/projectile looms and 29 per cent of air-jet looms. Europe and North America saw 73 per cent and 54 per cent of rapier/projectile looms shipments, while the share of water-jet looms is only 7 per cent and 11 per cent respectively.
Large circular knitting machines shipment declined 22 per cent in 2014 touching the lowest level since 2009. Asia was the leading investor accounting for 88 per cent of all circular knitting machines shipped worldwide with China being the single largest investor. India and Turkey followed with a share of 8.6 per cent and 4.6 per cent respectively.
For electronic flat knitting machines, year 2014 turned out to the best as shipments grew by 31 per cent to 46,100 machines and recording the first increase since 2011. As usual, Asia received the highest share accounting to over 85 per cent of all deliveries with China being the largest investor with a share of 42 per cent. The other four largest investors in flat knitting machines were Bangladesh, Viet Nam, Turkey and India.