Given the rapid changes in prices of polyester feedstock ethylene and paraxylene prices, their respective derivatives reflected similar trends year on year. Asian MEG markets fluctuated widely opening June and prices jumped in line with the ethylene and PTA market. They fell in the third week on short selling and bearish polyester markets as the peak season drew to a close. Prices, however, climbed again June-end on expanding downstream operating rates. Meanwhile, MEGlobal nominated Asian July contract price at a roll over. Asian spot was down 1.5% in June and 4.8% from a year ago.
European June contract price was settled up on tight supply amid bearish spot dynamics. MEG balance continued to tighten in May pushing spot truck prices up to on strong demand from polyester markets. Ethylene shortages and unplanned ethylene oxide outages plus utility problems had adversely affected MEG production in late May into June, tightening up balances even more. Spot fell Euro10 in June but were slightly up 0.7% year on year. Contract price for May was quickly settled at Euro1,080 a ton DDP and for June at Euro1,107 a ton DDP. US MEG price rolled over on stable expectations. Production was near to maximum with only a minor slowdown at one producer in early May. Demand was strong with sales reported above normal levels. US spot was down 6% from last year.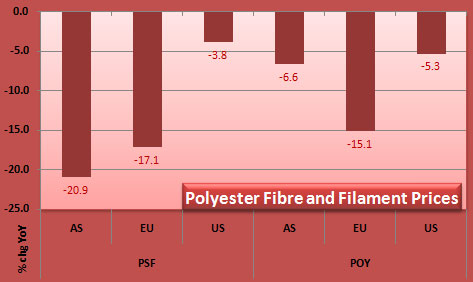 PTA prices regained sharply in Asia week one as there was no end to plant issues across China and Japan. However, they moderated later as issues subsided and attention turned to waning demand only to edge up last week. European PTA was static in June. CFR China prices were down 2.5% from May and 25% from a year ago. With stable outlook, some PTA buyers were encouraged to look for spot deals outside the region. In US, PTA producers were running close to capacity, with supply back to normal in the region. However, there are suggestions of stronger PET imports, which could impact regional PTA demand. Prices were down 7.3% year on year in June. Polyester chip markets in Asia were range bound as trading was insipid in June. Offers for semi dull and super bright chips were down 3.5-4% from May and 24% from June last year. In US, the absence of settlement in raw materials delayed announcement by fibre chip producers as most of the market was on a raw material formula based on current-month raw material prices. Chip spot price moved down 9% year on year in June, while the same in Europe declined by over 15%.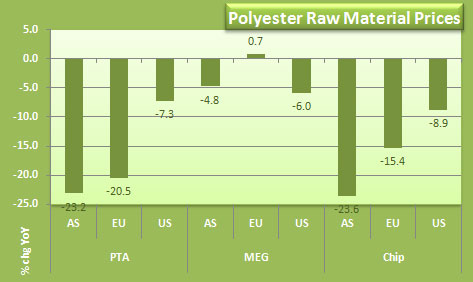 PFY markets in China were on weak correction in June and producers pegged offers mostly flat, and reduced in few specs on weak cost and limited buying interest. In India, POY market was stalemated amid bearish sentiment and producers lowered offers for some specs. In Pakistan, DTY prices saw notable decline in prices in the last week of June although producers pegged offers stable. In China, POY 75/72 prices declined 6% in Shengze. In Europe, 167 Dtex POY prices were down 15% while in US 70D POY was pegged 5.3% lower than last year.
PSF prices were on a rise in China opening June as a fire at JX plant resulted in the shutdown of two paraxylene lines which supported PSF producers to raise offers immediately. However, prices declined later in the month as the support eased rapidly. In China, 1.4D PSF was pegged down US cents 4 from last month and 21% down from June 2014. In Europe, 1.7dtex PSF prices were down 17% in June 2015 compared to last year while in US 1.2/1.5D PSF was pegged 3.8% down in similar comparison.
Concluded
Courtesy: Weekly PriceWatch Report